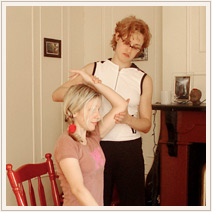 The first personal training session will consist of a fitness evaluation. We'll go through a routine that tests your strength, flexibility, and endurance. From here we can then asses your goals and determine what needs to be done to reach your best level of fitness.
Our sessions will never be completely the same nor will I ever just do the "routine" with you. At the start of every session we will check in to see how your body is feeling. If the day was particularly stressful or there is an ache, our workout will address these concerns. Every few weeks we will also check in to see how the program is progressing. Are your goals going to be met? Or do we need to modify things a bit?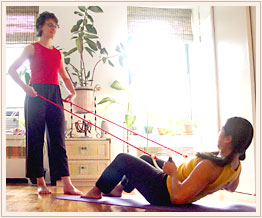 The exercises will draw upon different forms that I have been studying and teaching for years. The challenge of the exercise will always be at your level and geared towards what you need to ultimately better balance the body. By drawing upon several different exercise forms we will have a well rounded work out that does not neglect one area.
One exercise system is really not enough. It may lack certain stretches or strengtheners that you need. By drawing upon different exercises, it'll not only help your body but also only keep your workout fun and interesting. Specifically, we will be doing different combinations of:
Cardio Jump-roping and/or Kick-boxing
Dancing
Stretches from Ashtanga Yoga
Core Strengtheners from Pilates
Exercise Ball Workouts
Localized Toning from Resistance Isometrics
Breathing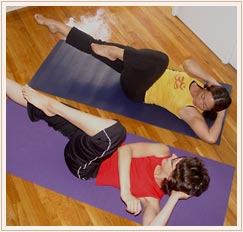 How is breathing an exercise? Well, without focused breath in your exercises the muscles are being starved of oxygen. Without oxygen you might as well not be doing the exercises because the muscles are not going to contract or stretch to their full capacity. We want to maximize your time - New York is one busy place. Who can afford to work out poorly and who should anyway!
Our sessions will be to the point, working to bring your body into a better balance and accomplishing your goals through the use of low-impact yet challenging exercises. I promise that you will finish the workout feeling refreshed and energized. At the end of the session we always close with several deep assisted stretches that to me feel almost like a massage! My goal is for you to feel longer, taller, and ready for anything after every session!
Click here for more about my experience...
"I've been meeting with Abbey once/week for a few months and love it! Abbey's unique combination of pilates, stretching and cardio has helped me to increase flexibility and strength as well as improve my posture...I've also lost 5 lbs in the process!" - Jenni, NYC

Getting married soon?
Well then it is time to take measures to look and feel your best! If you have time before your wedding you can get into better shape. The only thing that you need to do is actively commit. Let me give you a quick break down of what will be involved in the Bridal Boot Camp program. MORE...
Recent Press
Look for Abbey's recent fitness articles & interviews in The Beauty Handbook and The Sun. Coming soon: Bride Magazine...





Home | What We Do | About Me | Rates & Contact
Contact Abbey at abbey@personaltrainernyc.com
All Contents Copyright 2004 © Abbey Dehnert, Personal Trainer
New York City, NY, Manhattan, NYC