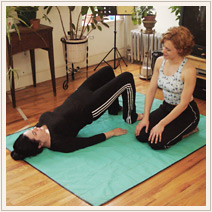 Personal Training with Abbey. Abbey is a personal trainer in NYC, physical fitness trainers Midtown Manhattan, New York City.

Exercise does not have to be boring! Personal training sessions can be down right fun, mentally as well as physically engaging and also, oddly enough, relaxing.
What makes working with me different? In addition to working in a gym, I have been dancing professionally for the past 8 years. I approach exercise not as only as an athletic personal trainer but also as a dancer, which means that we will work towards transforming your body into a dancer's body.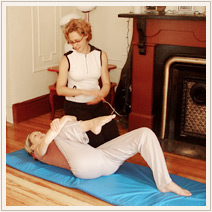 Our workouts will be made up of exercises gently flowing from one to another, workout sessions that'll make you strong and flexible. There will be no bulking up or lifting heavy weights. Rather, our sessions will be more about finding a balance between stretch and strength and improving how your body carries and works with itself: your posture.
Great posture optimizes every movement that you do throughout your day: posture helps your everyday movements work to improve and tone your body, while alleviating pain and stress. Posture is not about simply telling your body to stand up straight - it is about methodically strengthening muscles that pull your body into good alignment. We will work to help you move with elegance and agility. To me, being fit means being able to move with ease, feel good about yourself and confident about your body.
Drawing upon a wide variety of exercises - from kickboxing, club dancing, to 105 different ways to work the stomach - we will explore new, fun and challenging ways to work out. You will discover feats that you never new you had the strength to do!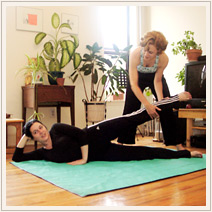 What are the benefits to working with a personal trainer with a background in dance? We will do much more than just trim your waistline, the techniques that we will use will result in:
Weight Loss
Flexibility
Coordination
Rhythm
Better Posture
More Physical Awareness
Gracefulness
Grounding
Control
Mental Clarity
Balance
You have a unique body, with a different history than anyone else out there in the world! As your personal trainer I am not just going to give you a generic formula. Based upon your strengths and weaknesses, we will pull from a vast number of exercises to find the ones that your body needs and craves. So what will we be doing?
"Abbey's workouts are just great. Her routines are interesting, original, and very effective for strengthening you and improving your balance and feeling of confidence and relaxation in your own body. Throughout your workout Abbey's exercises seem to be tailored to you. As a personal trainer she is completely attentive to your needs. She is contributing knowledge, empathy, and encouragement as I successfully work through an injury, reducing pain and stress and effectively strengthening the areas near the injured part. I hope to train with her forever." - Connie, NYC

Getting married soon?
Well then it is time to take measures to look and feel your best! If you have time before your wedding you can get into better shape. The only thing that you need to do is actively commit. Let me give you a quick break down of what will be involved in the Bridal Boot Camp program. MORE...
Recent Press
Look for Abbey's recent fitness articles & interviews in The Beauty Handbook and The Sun. Coming soon: Bride Magazine...





Home | What We Do | About Me | Rates & Contact
Search with GOOGLE!
Contact Abbey at abbey@personaltrainernyc.com
All Contents Copyright 2004 © Abbey Dehnert, Personal Trainer
New York City, NY, Manhattan, NYC
Site by Virv.com